OCTOBER 7, 2017
---
Watch the overview of the opening ceremony on October 7th, 2017
Video courtesy The Source /YourTV.

The opening of the First Nations Peace Monument marks a permanent change in the landscape of the Niagara Region, and a permanent shift in Canada's relationship with First Nations Peoples.
---
---
About the First Nations Peace Monument
---
The First Nations Peace Monument in DeCew House Heritage Park, Thorold, Ontario, is a memorial designed by world-renowned architect and human rights activist Douglas Cardinal. Located near the site where Laura Secord encountered First Nations warriors who assisted her in conveying a warning to the colonial British forces of an impending American invasion, the monument is intended to generate a deeper understanding of the heritage and ongoing history of First Nations peoples, and to illuminate the founding role they played (and continue to play) in the ever-evolving North American cultural mosaic.
Laura Secord's uneasy but extremely important interaction with First Nations warriors in her fateful encounter in Decew's Field is powerfully symbolic of the deep roots and inherent complexity of relationships amongst indigenous peoples and more recent settlers of the North American continent. It is an invitation to understand and reflect upon the divisions that extend back to our earliest days, in a spirit of respect and reconciliation.
The distinctive curvilinear design of this compelling architectural sculpture is consistent with Douglas Cardinal's iconic designs elsewhere in North America, including the Canadian Museum of History in Hull, First Nations University in Regina, and the National Museum of the American Indian at the Smithsonian Institution in Washington, D.C.

For more information about the First Nations Peace Monument, click here .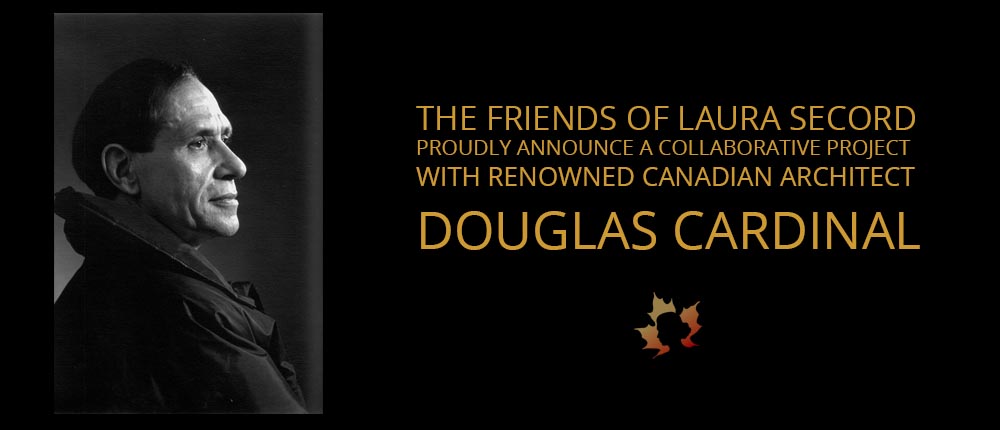 ---