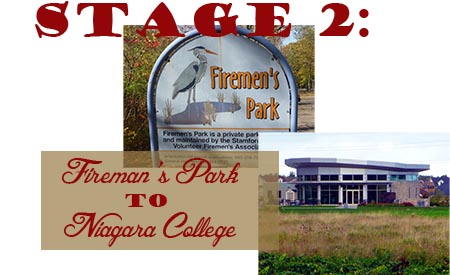 ---
Distance: 6.51 km – Average Walking Time: 2 hrs.
Stage 2 of the Legacy Trail starts in the wooded stands and open spaces of Firemen's Park, Niagara Falls, on the edge of the Escarpment. The trail crosses the CNR Railway and heads westward, crossing the busy QEW traffic corridor on the Sand Plant Hill Footbridge (below, left). On the west side of the QEW, the trail descends from the bridge and passes through the famed Screaming Tunnel, featured in Halloween ghost stories and at least one David Cronenberg horror film (below, right).
---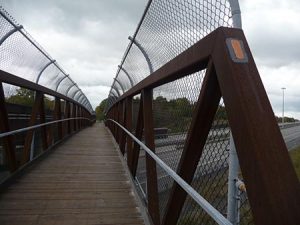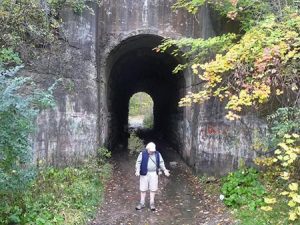 ---
The trail continues along tranquil Warner Road and into the forest at Wood End Conservation Area (below left), where it merges with Niagara College's Wetland Ridge Trail, a side loop of the Bruce Trail also known as the Paul Naray [Silurian] Side Trail (West) (below right).
---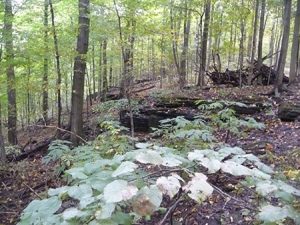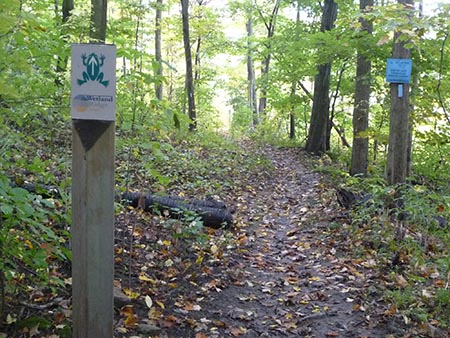 ---
The Stage 2 route follows the Wetland Ridge Trail west down the escarpment for about 30 m, doubling back in a northeasterly direction in the woodland ecotone close to the edge of the Niagara College vineyards (below left). This section of trail traverses a patch of glacial till (talus slope) at the base of the Escarpment, which is geologically interesting but which makes walking somewhat difficult (below right). For the less adventurous, a grassy alternative to the glacial till follows the edge of the Niagara College experimental vineyards.
---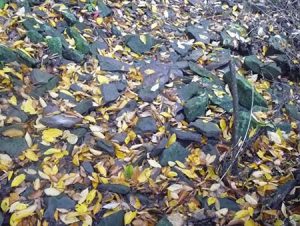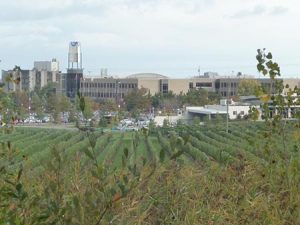 ---
After 400m, the Wetland Ridge Trail emerges into the open alongside the eastern edge of the Niagara College vineyards (below left), just west of the twin lagoons (below right).
---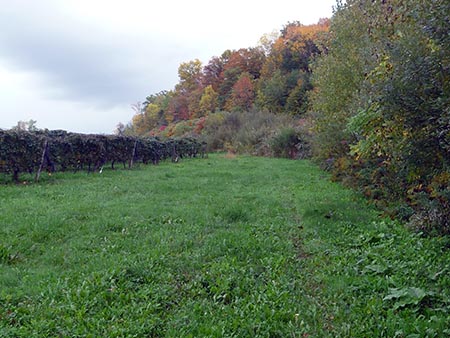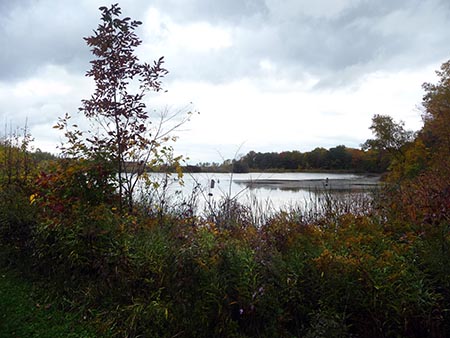 ---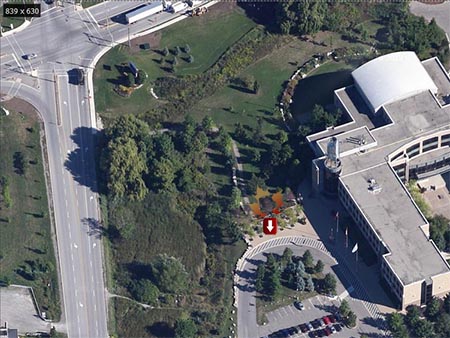 Next, proceed north to the car park access road, and then west across the Niagara College carpark and past the Transit Loop in front of the main college building (red arrow, right). The end of Stage 2 is at the bus stop under the big blue 'nc' logo, at the main entrance to Niagara College.
---
---