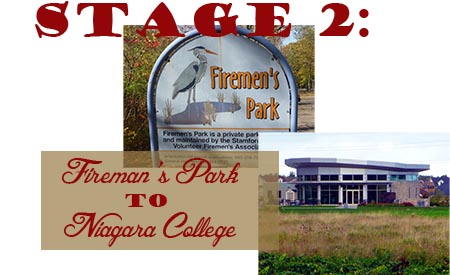 ---
Distance: 6.73 km – Average Walking Time: ~ 2 hrs.
Stage 2 of the Legacy Trail starts in the wooded stands and open spaces of Firemen's Park, Niagara Falls, on the edge of the Escarpment. The trail crosses the CNR Railway and heads westward, crossing the busy QEW / General Brock Parkway traffic corridor on the Sand Plant Hill Footbridge (below, left). On the west side of the QEW, the trail descends from the bridge and passes through the famed Screaming Tunnel, featured in Halloween ghost stories and at least one David Cronenberg horror film (below, right).
---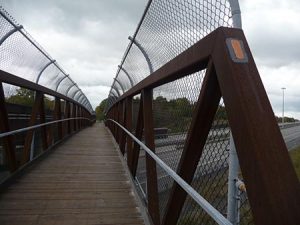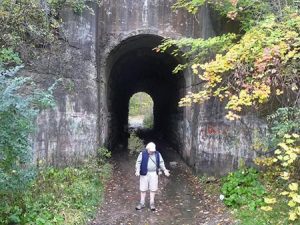 ---
The trail continues westward along tranquil Warner Road. About 270 m west of the intersection with Garner Road (nominal address: 8790 Warner Road), the trail leaves Warner Road and  heads north into the scrubby forest near Woodend Meadow (below). The trail entrance from the road is marked with white Bruce Trail paint blazes and a Laura Secord Legacy Trail marker sign.
Image: Google Street View - 8970 Warner Road
---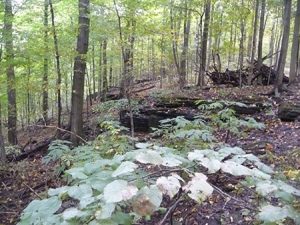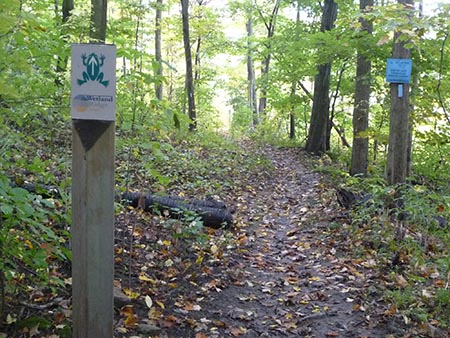 ---
Follow the path until it merges with the Wetland Ridge Trail. NOTE: Since its 2021 re-route, Stage 2 of the Laura Secord Legacy Trail then follows the Wetland Ridge Trail east (right) towards the QEW, loops north along the west edge of the QEW, and then doubles back southwest towards Niagara College.
---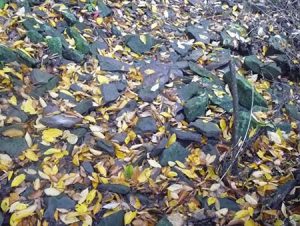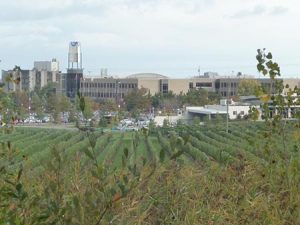 ---
When it reaches the the eastern edge of the twin lagoons, the trail turns north along the east side of the lagoons, then west along the north edge of the north lagoon towards the eastern edge of the Niagara College campus.
---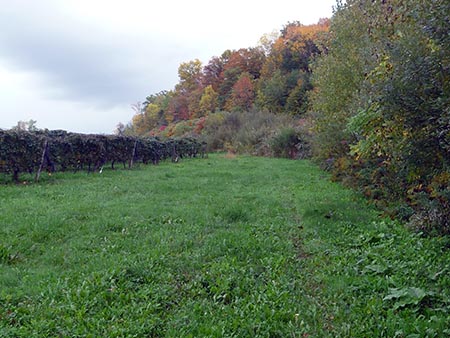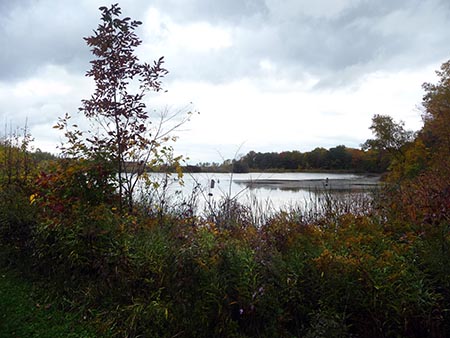 ---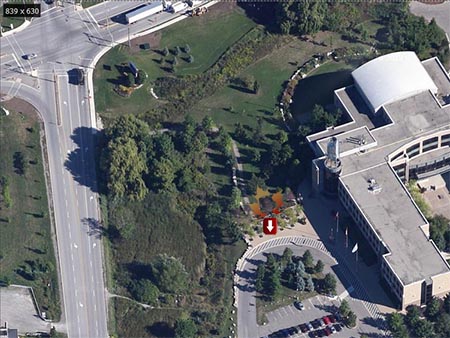 Next, turn right and follow the path north past the First Nations Metis and Inuit Garden. Continue north past the barn and storage yard to the car park access road, and then southwest across the crosswalk and past the Teaching Brewery into the heart of the campus. Make your way through the campus towards the Transit Loop in front of the main college building (red arrow on photo). The end of Stage 2 is at the bus stop under the big blue 'nc' logo, at the main entrance to Niagara College.
---
---