---

Images below are courtesy of Kim Valberg (thanks, Kim!) To download, click here.
As you know, Laura Secord was an immigrant, a veteran, the wife of a wounded veteran, a victim of war, and the Secord families were refugees. Because of the parallels to Laura's story, we decided make a small change for this year and help raise funds for today's victims of war. At the end of the day…
…together, we raised $10,000 for War Child Canada!

A special thank you to John Longo from Thorold who raised $610!! And John and his brother Anthony were also the first walkers to arrive at DeCew House Park on Saturday (1:09 PM)!
Thank you, too, to Jutta Payne from London who raised $310, and many others – everyone made such a difference. We like to think Laura was proudly clapping for all you as you walked along her trail on the actual anniversary of her courageous trek of 1813.
---
Response from our walk participants was great!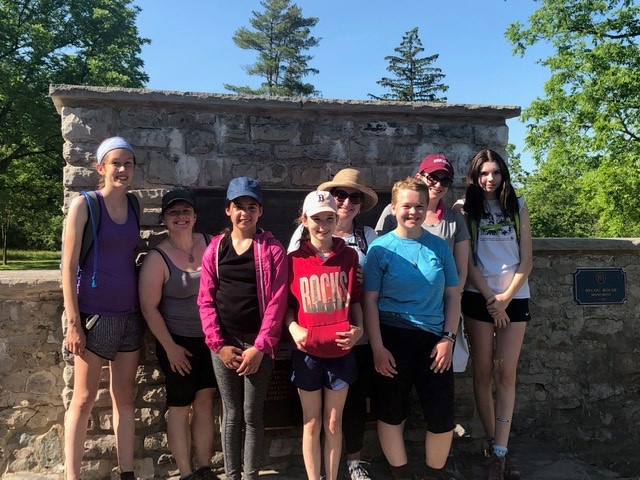 ---
"It was a great day – really a wonderful event. I must say, every single person we encountered was wonderful. You really have the nicest group of volunteers!"
– Laura Kellor, Guelph Pathfinders
---
Images and video below are courtesy of Danny Qwan (thanks, Danny!) To download, click here.
---
"Lee and I really enjoyed ourselves doing the Walk on Saturday. It was very well organized from start to finish. The handout package with the guide, coupon, patch and medal was very nice. I really appreciated the set up at the end of each Stage having Roy and you as well as the wonderful volunteers greeting us with cold water and refreshments. The variety of food and drinks were great at the DeCew House. The entire event was just excellent!"
– Danny Quan, Mississauga
---
Images below are courtesy of Kim Valberg. To download, click here.
---
"Thank you Caroline for a great day. I especially liked the bus options. Very much appreciated. You and your group were welcoming and made the event a super experience. Thank you so much."
– Patricia Murenbeeld, NOTL
Images below are courtesy of Kim Valberg. To download, click here.
---
"A huge thank-you and shout-out to all the volunteers who made this such an amazing day. It was my first time on the walk and I'll be back next year for sure! Thank you all for what must have been a mountain of hard work and a bees-nest of detail-wrangling."
– Kate O'Donnell, Brantford
---