---
Spanning the full 32 km (20 miles) of her epic journey from the Secord Homestead in Queenston to Decew House Heritage Park in Thorold, the Laura Secord Legacy Trail is a permanent monument to Laura's legacy.
---
---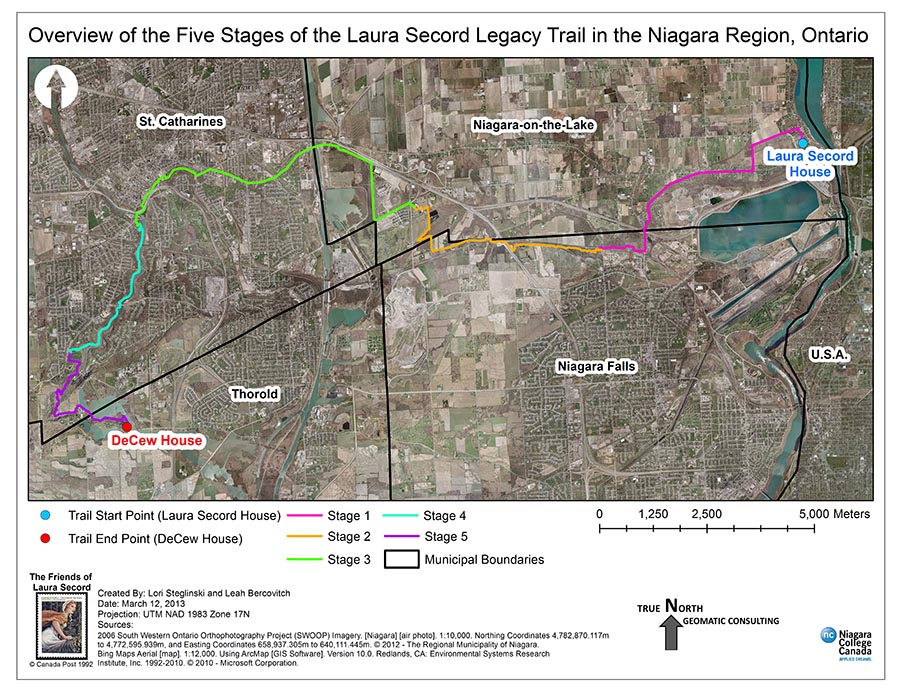 Above: The Laura Secord Legacy Trail travels 32 km from Queenston to Thorold. Click map image for a larger version.
---
Considerable research was undertaken to identify the route Laura Secord took on that fateful June day in 1813 from the Secord Homestead in Niagara-on-the-Lake to DeCew House in Thorold, where she delivered her famous message. We have drafted a modern-day approximation of the route that can be negotiated safely by hikers of average abilities. The five-stage route follows everything from ancient forested Indian trails to modern city sidewalks. You can hike the entire route, or break it up into shorter segments.
---
A STAGED APPROACH
---
The Laura Secord Legacy Trail is divided into five stages, with six waystations along the route. Each stage will give you a different walking experience, along a route that parallels the route that Laura Secord took in 1813.
Though taken at different times of the year and different stages of trail development, the trail overviews below should give you a fairly accurate overview of the trajectory and features of the Laura Secord Legacy Trail.
---
LEARN MORE ABOUT EACH STAGE OF THE TRAIL…
---
BRIEF OVERVIEW OF STAGE 1: Laura Secord Homestead to Firemen's Park

BRIEF OVERVIEW OF STAGE 2: Firemen's Park to Niagara College

BRIEF OVERVIEW OF STAGE 3: Niagara College to Rodman Hall

BRIEF OVERVIEW OF STAGE 4: Rodman Hall to Rotary Park

BRIEF OVERVIEW OF STAGE 5: Rotary Park to DeCew House
---
---