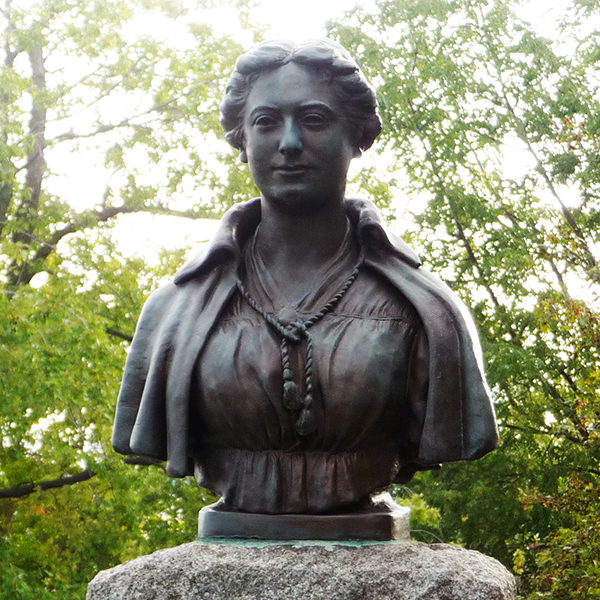 ---
LAURA SECORD – A CANADIAN HEROINE
---
On the evening of June 21, 1813 Laura Secord overheard American officers at her home in Queenston discuss plans to capture a British outpost located at John DeCew's House, 32 kilometres away, near the area called Beaver Dams. Early the next morning, Laura left her wounded husband and young children and walked through enemy lines and dangerous terrain to warn the British and their aboriginal allies of this impending attack by American forces. After many hours of difficult travel on an exceptionally hot and humid day, she stumbled upon an encampment of native allies who escorted her to DeCew House to deliver her fateful message to Lt. Fitzgibbon. Armed with this information, an ambush was laid by aboriginal forces from Upper Canada and the Grand River that resulted in the surrender of nearly 600 American troops at the decisive Battle of Beaver Dams on June 24th, 1813. Without Laura Secord's bold contribution, Canada may not have existed as a nation today.


---

The Friends of Laura Secord is a diverse and multifaceted community group with the primary goal of preserving, strengthening and perpetuating the Secord legacy so it can continue to inspire and educate future generations about the many heroes, both famous and unsung, who helped to define this country.
---
THE LAURA SECORD BICENTENNIAL EVENT
In commemoration of the 200 th anniversary of Laura Secord's epic journey, the Friends of Laura Secord undertook several celebratory, educational and legacy projects.
These projects included the establishment of the Laura Secord Legacy Trail, the building of the Bridge at Laura's Crossing at the point where Laura Secord crossed Twelve Mile Creek, the development of a comprehensive website and the organization and implementation of a Secord bicentennial weekend to commemorate Canada's most famous heroine on the 200th anniversary of her epic journey. This event included a highly publicized commemorative walk; the unveiling of a new Laura Secord stamp by Canada Post and a new Laura Secord coin by the Royal Canadian Mint; and a special screening of a remarkable video from HRH Charles, The Prince of Wales endorsing Laura Secord's heroic efforts.
The Laura Secord Legacy Trail
Working with historians and trail experts, the FLS defined and established the Laura Secord Legacy Trail – a modern day approximation of Laura's actual route from her homestead in Queenston to DeCew House in Thorold where she delivered her fateful message to Lt. Fitzgibbon on June 22, 1813. Divided into five distinct stages and encompassing everything from ancient forested Indian trails to modern city sidewalks, the trail route was developed based on historical authenticity, safety, natural ambiance, and free public access.
In collaboration with the various municipalities and jurisdictions along the route, extensive trail improvements (surface upgrades, grading, culverts, handrails, steps, and slope remediation) were undertaken along the entire 32km trail to enhance safety and accessibility for trail users on June 22nd and beyond.
The Laura Secord Legacy Trail was marked throughout its length with unique signage, linked by GPS and QR codes to innovative, web-based interpretive tools which celebrate the Secord legacy, educate about the important contribution of aboriginal allies to the War of 1812, highlight the role that women played in the founding of our nation, and interpret the history and landscape along the way. It is the first 'active and interactive' trail in Canada where the dual emphases of education and exercise are combined in this manner.
Though it is a most appropriate historic initiative in its own right, the Laura Secord Legacy Trail will also help foster pride in local history and contribute meaningfully and tangibly to the emerging network of trails and greenways in Niagara – a network that continues to grow in importance as a tourism resource, an economic stimulus, and a priceless natural heritage legacy.
On June 21 st, 2013, at the "Toast to Laura Secord" event organized by the FLS, the Laura Secord Legacy Trail was formally linked to the Trans Canada Trail by TCT co-chairs Valerie Pringle and Laureen Harper.
The Bridge at Laura's Crossing
Prior to June 2013, there was no convenient way for hikers to cross at the point where Laura Secord struggled across the swollen waters of Twelve Mile Creek during her courageous trek 200 years before. To address this, the FLS undertook a project to build a modest pedestrian bridge at the site to commemorate the site, facilitate passage for participants in the Laura Secord Commemorative Walk, and avoid lengthy and potentially dangerous on-road detours that would deviate considerably from Laura's original route.
Extensive environmental, geotechnical, and geomorphological studies were undertaken and, thanks to the generosity of an anonymous private benefactor, the donation of innovative and environmentally sensitive bridge design by the Government of New Zealand, and the contributions of a community-minded construction firm, the 65 foot eco-sensitive 'Bridge at Laura's Crossing' became a reality.Over 100 singers from the Canadian Children's Opera joined in the ribbon-cutting ceremony on June 1st, and we were further honoured to have Laureen Harper unveil the plaque on June 22nd.
The Bridge at Laura's Crossing was another major step towards celebrating Laura Secord's legacy in a most appropriate and historically relevant manner, as well as an important physical symbol of the bridge between two of this nation's founding cultures. It helps connect many disparate trails in the area into a unified network, and will remain as an enduring legacy feature in a much broader long-term recreational, educational, and tourism context.
As soon as jurisdictional policies allow, the FLS plans to develop an accessible trail link to this important bridge via a scenic route for those with limited mobility.
The Friends of Laura Secord Website
Initially created to help promote the Laura Secord Bicentennial Event and register participants for the Commemorative Walk, the FLS website continues to be an educational resource and repository of information pertaining to the entire Laura Secord legacy. Its development includes the capacity to deliver educational material and geo-referenced interpretive information via internet and wireless data services to users at home and all along the Laura Secord Legacy Trail.
The Laura Secord Commemorative Walk
On Saturday June 22, 2013 the first ever re-enactment of Laura Secord's journey took place – exactly 200 years to the day after she walked out her door and into Canadian history.
FLS volunteers and partners worked earnestly to promote the event. Promotional materials were developed and distributed; hundreds of meetings, presentations and media interviews took place across Ontario; and online registration and promotion tools were developed on the FLS website, attracting nearly 100,000 users. Thousands of people joined in the walk and associated activities. We were honoured to have the involvement of Mrs. Laureen Harper (wife of Canadian Prime Minister Stephen Harper), media icon Valerie Pringle, then – Minister of Justice Rob Nicholson, and several Canadian Olympians, to assist in profiling the event.
The Laura Secord Legacy Trail is divided into 5 stages and several options were offered to accommodate many ages and abilities. More than 1000 weary, sweaty, and immensely proud people were presented with a medal by a Lt. Fitzgibbon re-enactor when they arrived at DeCew House (including Laureen Harper and Rob Nicholson, who walked the entire 32km). It was a unique opportunity to appreciate the remarkable contributions of Laura Secord and the First Nations peoples who secured the victory at the Battle of Beaver Dams.
Participants ranged in age from 8 to 92 years, and although the majority were from across Ontario, there were significant numbers from almost every province in Canada (including the Yukon Territories); as well as Washington, D.C., New York, Texas, California, Colorado, the state of Washington, Norway, and the U.K.
The Laura Secord Bicentennial Event – In Summary
The Laura Secord Bicentennial Event was a positive and enduring celebration of Canadian heritage and values that captured the imagination of Canadians from coast to coast. Laura Secord is a cherished national icon, but in many ways was also an ordinary person living in extraordinary times. Her inspirational story transcends its historical details and context. She represents a wide spectrum of ordinary people, male and female, native and immigrant, whose daily struggles and contributions to the building of this nation went largely unnoticed, but who rose to the challenges of their circumstances with exceptional courage and heroism. The Friends of Laura Secord are committed to sharing this enduring legacy with present and future generations.
WHAT NOW?
More than 200 years after Laura Secord's courageous exploits, and more than a century and a half after her first official recognition, the Friends of Laura Secord plan to build upon the firm foundation of commemorative events, interpretive projects, and public facilities to ensure that her lasting legacy is celebrated well into the future.
The physical and interpretive infrastructure of the Laura Secord Legacy Trail was built on a foundation of experiential learning, physical fitness, and outdoor recreation. It is an outdoor educational laboratory that fosters the understanding and promotion of diverse cultures, supports and strengthens the region's heritage sector, and opens up a new dimension in interactive experiential learning.
Building upon the existing website, the FLS is advancing its mission by adding important new interpretive and educational content about lesser-known historical events, as well as new insights about pioneer women, aboriginal peoples, and Black settlers. These underrepresented and underserved groups were instrumental in shaping Canada as a nation. Much of this information will be delivered interactively and in real time along the 32 km Laura Secord Legacy Trail (LSLT), using innovative new digital technologies that will automatically deliver contextually appropriate interpretive multimedia content directly to users based on their physical location. This particular field-oriented use of mobile digital technology is a highly innovative and effective way to tell relevant stories onsite in a real world context.
However, the interpretive content is not bounded by physical location. Many of the stories, activities, and educational materials in the FLS digital collection are created for used in diverse locations across Canada and around the globe, engaging people in a worldwide understanding and appreciation of the Secord legacy.
"Get some exercise and learn a little history along the way!"
The Laura Secord Commemorative Walk on June 22, 2013 was the historic first of the annual Laura Secord Walks.The walk is now an annual event, which provides recurring opportunities to walk and learn while acknowledging the courage, determination, perseverance and courage of Canada's heroine and all those she represents.
On June 23rd, 2014, several hundred participants took part in the Second Annual Laura Secord Commemorative Walk. Walkers were able to interact with FLS volunteers and representatives along the trail. Hikers and mobility impaired participants took in the interpretive exhibits in a special display area within the Outlet Collection at Niagara, a large open-air retail mall which displays permanent Laura Secord Legacy Trail banners onsite, incorporates a side loop of the Trail through its premises, and provides display and interaction space in an outdoor atrium for the annual walk event. Other participants attended Secord-themed talks at Queenston Chapel and culinary events at local wineries and restaurants.
CELEBRATION OF THE FIRST NATIONS
In addition to developing interpretive content about the contributions of First Nations peoples, we are also working with partners to develop a permanent monument to commemorate the relationship between settlers like Laura Secord and the resident First Nations peoples. Laura Secord came upon an Indian encampment near the end of her journey on June 22, 1813. Warriors escorted her the final distance to DeCew House where she delivered her fateful message to Lt. Fitzgibbon. Our vision is to create a permanent monument in the form of an ever-evolving 'living' stone hearth at that site. Visitors will bring a small stone from their home, carry it with them along the trail, and leave it on an ever-growing pile of stones in the symbolic stone hearth at DeCew's Field as a permanent, participatory, ever-evolving monument of thanks and respect to the First Nations peoples.
Additionally, in collaboration with Assembly of Six Nations, artistic elements which symbolize, validate, and reaffirm the original respectful and collaborative relationship between the settlers and the First Nations will be added to the Bridge at Laura's Crossing to complete its intended design.
ACCESSIBLE TRAIL DEVELOPMENT
The FLS mandate of inclusiveness has always included plans for accessible sections of the Laura Secord Legacy Trail, providing people with limited mobility the opportunity to reach the new Bridge at Laura's Crossing and visit the living stone hearth at DeCew's Field. These historic and beautiful paths will incorporate scenic overlooks and areas for rest and contemplation. High cost and significant jurisdictional obstacles make the establishment of accessible trails an ongoing challenge, but FLS will persist in its vision to make additional sections of the trail accessible to all.
THE LAURA SECORD "GO THE EXTRA MILE" AWARD
This award of recognition is to be awarded annually to a Canadian woman who has 'gone the extra mile' in academics, community service, athletics, entrepreneurship, or the military.
SIGNIFICANCE OF INITIATIVES
Civic engagement – The 'educate and exercise' approach to the Laura Secord Legacy Trail and its associated interpretive resources are applicable to a wide range of people – from individual users and family groups, through clubs and organizations, to schools and universities – all of whom can benefit from the physical and intellectual resources made available through this project. In the first year of its existence alone, the trail was used for the major Commemorative Walk event, a number of smaller organized walks by community groups throughout the province, a university environmental studies course, and countless individual hikes and walks which take advantage of the existing trail infrastructure and interpretive resources. Our new content and mobile delivery enhancements will increase this civic engagement on all fronts.
Inclusion – Providing a free outdoor educational and recreational resource like the Laura Secord Legacy Trail already promotes the inclusion of a wide array of users. Access and use of interpretive materials is free, removing economic barriers. In separate concurrent projects, FLS are actively pursuing opportunities for accessible trail segments at the Living Stone Hearth monument at DeCew's Field and at the Bridge at Laura's Crossing, to allow individuals with limited mobility to participate firsthand in the activities and learning associated with the Secord legacy.The stories we are telling along the trail expand the narrative to recognize, include, and celebrate other groups who played critically important yet largely unheralded roles in the creation of Canada.
Innovation – To our knowledge, the Laura Secord Legacy Trail is the first 'active and interactive' trail of its kind in Canada, where the dual emphases of education and exercise have been combined. Our particular field-oriented use of mobile digital technology, multimedia, and other web-based resources is a highly innovative and effective way to tell relevant stories onsite in a real world context. We are working to expand the mode of delivery of interpretive information by identifying the physical location of users using GPS technology so that stories and interpretation can be delivered automatically via smartphones and other mobile devices based only on the user's physical location.
Collaboration – The FLS group is already collaborating with more than 25 different jurisdictional entities (municipalities, agencies, government organizations), and has dozens of other connections to stakeholders in the community in fields as diverse as tourism and accommodations, museums and galleries, academia, and high tech IT industries. These collaborations will only continue to be strengthened by the direction we are heading.
Environment – The environment played a direct role in the Secord narrative. Laura's passage through challenging and inhospitable terrain is already known, but a lesser-known story is the diversity, complexity, and bounty of the Carolinian forest regions of Niagara which provided sustenance to First Nations peoples and facilitated the settlement and economic prosperity of waves of subsequent settlers, including Secord's family. We will interpret the environmental features along the Laura Secord Legacy Trail through the eyes of the contemporary ecologist as well as with the wisdom and insights of the aboriginal inhabitants.
Sport and Recreation – The 'educate and exercise' mandate of the LSLT lends itself directly to enhanced opportunities for sports and recreation in Niagara. In addition to being an educational resource, the trail can be (and already is) used to host hikes, community walks, runs and marathons, geocaching activities, birding and natural history walks.
Responding to Local Contexts – Though it is of national significance, the Laura Secord story is rooted in a local context – geographically, culturally, and historically. Despite this, awareness and pride of the epic story which took place in the Niagara region is surprisingly low, a gap which we are attempting to address directly with our unique educational trail initiative. In addition to the identification and interpretation of physical locations, the telling of untold local stories, and the championing of local history, this project has very real potential to help address some of the important challenges of local economic development. As precedents like Prince Edward Island's Anne of Green Gables amply demonstrate, the attractiveness of an iconic national heroine like Laura Secord can translate directly into tourism opportunities, programs and events, product marketing prospects, and a host of allied economic development opportunities.
The LSLT could soon serve as an outdoor educational laboratory that fosters the promotion of diverse cultures and supports and strengthens the region's heritage sector while building upon a fitness and recreation infrastructure. To further advance this agenda and to share the Secord legacy and affiliated stories with new Canadians and non-English speakers, we have incorporated automatic translation features into our website, allowing for credible translation of website contents into 80 different languages.
Responding to CANADA – There is great potential to further develop the innovative educational elements of this initiative into enhanced materials delivered by a professional educational extension service to schools across Canada….and Laura Secord Walks across Canada.
Walk into history with us, Canada.

Walk the walk wherever you are!
IN SUMMARY
Laura Secord is an engaging, enigmatic, compelling, and significant figure in the canon of Canadian history. Despite her historically disadvantaged role as a 'mere woman', she is known as a courier of critically important information that contributed to the defence of our fledgling nation.To quote HRH Charles, the Prince of Wales, in his video address to our organization,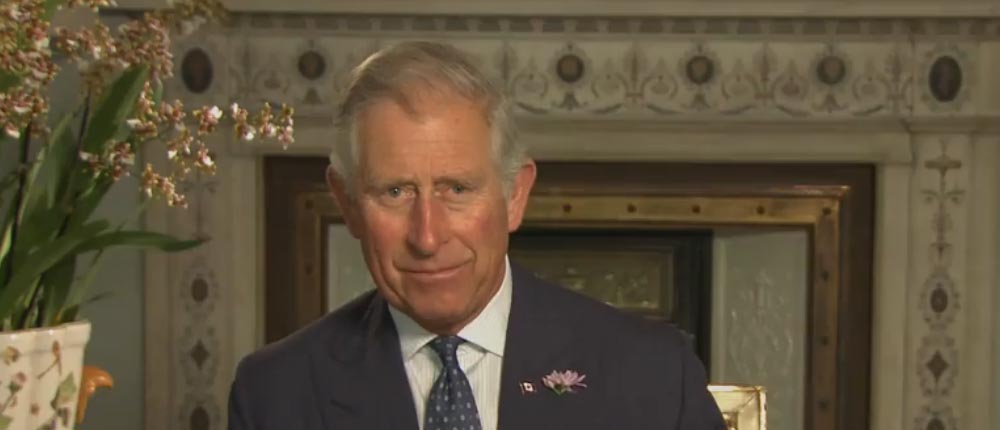 "…She remains an iconic figure who, perhaps more than anyone, represents the quiet determination and exceptional resolve of ordinary citizens to preserve and protect the values central to Canadian society that we enjoy today. Without her efforts and those of hundreds of other unknown, unsung heroes, the Canada of today would be a very different place."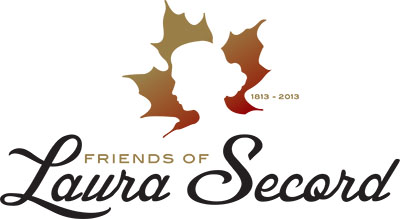 The Friends of Laura Secord will continue to perpetuate the legacy of Laura Secord.